Eastport is a less of a village than the other places on
my list of the prettiest lobster fishing villages in Maine
.  Perched on Moose Island and connected to the mainland by causeways, Eastport's walkable downtown includes 29 buildings on the National Historic Register.  Many of these buildings are constructed of red brick and were erected in the 1800's when the little city was home to a thriving sardine canning business and rivalled New York City as a trading post.  These architectural gems now host art galleries, restaurants and gift stores.
Behind the waters-side shops is a shore front pedestrian pathway, edged with massive granite boulders and, in the summer, fragrant sea roses and planted flowerbeds. The edges of the town are lined with old sea captain homes, some now transformed into B and Bs.
The downtown Eastport seafront pathway, lined with sea roses.
Eastport Harbor, with beautiful flower beds lining the shore.
While Eastport hosts a thriving lobster fishing harbor, with the deepest port on the east coast of America, it's downtown clearly caters to artists and tourists, with a variety of restaurants, coffee shops, gift shops and book stores. One of my favorite gift stores is Kitty Butterfield's Nesting Gallery, which includes a nice selection of regional gifts and books. 
Below is a picture of me standing in front of one of their bookshelves which features my recently published book,
How to Catch a Lobster in Down East Maine
. On my visit there this summer, I picked up a copy of the
Explorer's Guide Maine Coast and Islands
(which you can see in the upper right hand corner of the picture) which I've found to be a very useful guide for visiting Maine.
Christina Lemieux in Eastport, Maine.
Eastport also has some good dining options.  If you want to enjoy lobster in the rough,
Quoddy Bay Lobster
 is a great choice. It is a lobster shack and fish market on the waterfront, offering whole lobster, fried seafood and sheltered picnic tables right on the water's edge. Quoddy Bay Lobster even got a mention in
my post
 on
the best lobster shacks in Maine
.
For a morning pick-me-up or an afternoon snack, I highly recommend Moose Island Bakery.  Beyond coffee, it has an amazing array of delicious, beautiful confections from mini whoopie pies to Boston cream pie cupcakes and a sunny deck on which you can comfortably slip into a post cupcake comma.  Dastardly Dicks Wicked Good Coffee is another good option for a strong cup of joe.
The wonderful Moose Island Bakery in Eastport.
The treats look as fantastic as they taste at the Moose Island Bakery.
If you want to get out on the water while you're in Easport, there are a variety of options. The Bay of Fundy is home to
The Old Sow
, the largest tidal whirlpool in the Western Hemisphere, which you can visit from aboard the
Lorna Doone
. Or you can help hoist the sails of the
Ada C. Lore
on a windjammer sailing adventure.  Whales and eagles are often spotted on the trip. You can also take a day trip to the pretty fishing village of
Lubec
in the summer months via a little ferry.
If I were to stay the night in Eastport, I would probably either relax in comfort at
The Kilby House Inn
, a beautifully maintained 1887 Victorian filled with original and family antiques or get back to nature by camping at
Cobscook Bay State Park
. Cobscook is surrounded by ocean on three sides and offers over 100 secluded camping spots, many right on the water.  What a great way to take in the extreme tidal swing in this unique section of Maine (the name Cobscook is from the Maliseet and Pasamaquoddy Indian dialect for "boiling tides").
Eastport hosts some wonderful, festive events in the summer.
Eastport's 4th of July
has been rated as one of the best in America and their annual
Pirate Festival
is a three day affair full of revelry, including themed parades,  a treasure hunt, fireworks, lobster boat races, lobster crate races and a friendly 'invasion' from the neighboring lobster fishing village of
Lubec
.
One of the views from Cobscook Bay State Park Campground.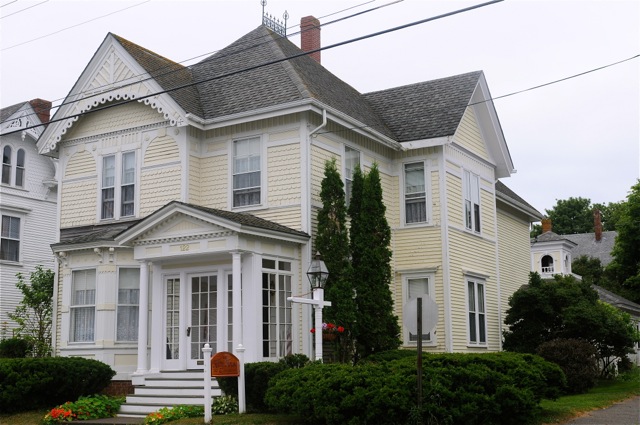 The Kilby House Inn.  Eastport, Maine.
To return to my list of the five prettiest lobster fishing villages in Maine,
click here.