Stonington, Maine is both an authentic, bustling lobster fishing village and a town which offers nice amenities for visitors. Stonington can be considered the largest lobster fishing village in the state, given that it lands more lobster than any other town in Maine. Still, the town is quaint and extremely picturesque. Stonington's harbor is breathtaking and its downtown runs right along the harbor, giving tourists the chance to browse the shops and have lunch while taking in the views.
Several of the restaurants in downtown Stonington have stunning views. I recommend Aragosta Restaurant as a lovely spot for lunch or dinner. It has a large deck overlooking the harbor and offers local seafood, fine dining options and a full bar service including a good wine list. The Harbor Cafe and Fisherman's Friend are other good options. The Stonington Icecream Company is a great place to stop and satisfy your sweet tooth.
Aragosta Restaurant. Stonington, Maine.
For shopping, Dockside Books and Gifts is a little gem of a store, almost hidden away in a small alley leading to the water, just off Main Street. It's easy to miss but well worth a visit. It features books from local authors like Linda Greenlaw and all the classic children's books about Maine. I picked up a copy of McCloskey's Burt Dow, Deep-Water Man
there. I believe the store is now also stocking my book, How To Catch A Lobster In Down East Maine. In addition to books, the tiny store carries beautiful post cards and note cards from local artists and other local and lobster fishing-themed crafts and gifts. On my last visit there, I picked up an advent calendar with an illustrated winter lobster fishing scene on it which I love. Beyond Dockside Books and Gifts, I love browsing through Prints and Reprints. The store, right on Main Street, stocks a great selection of used books and new prints, especially those of Andrew Wyeth. On one visit, I picked up an antique copy of The Decameron
 featuring illustrations by Rockwell Kent.
I've never stayed the night in Stonington, but if I did, I'd probably choose to stay at Inn On The Harbor which is what it says on the tin – an inn right on the harbor. It's right on Main Street and most of the rooms have views of the harbor. Some of the rooms even have private decks and wood burning fire places and the inn also features an espresso bar. Boyce's Motel looks like another good lodging option in downtown Stonington.
Stonington Opera House.
Stonington Opera House.  Photo courtesy of Jayson Maker.
Stonington also offers some great cultural experiences for those who go for more than a day visit. The lovely Stonington Opera House, built in the early 1900's, features films, music and more. The area is filled with local artists and potters as well as The Haystack Mountain School of Crafts and a wooden boat building school is in nearby Brooklyn, Maine.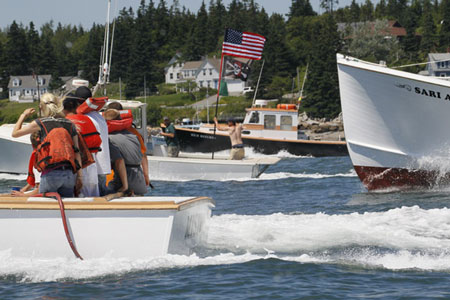 If I could choose a specific time to visit Stonington, I'd go during mid-July for the Annual Stonington Fishermen's Day or for the lobster boat races. My first memories of visiting Stonington were for the Maine Lobster Boat Races in the 1980s. Often, my whole family would arrive at the races via boat but on several occasions we drove down and I'll never forget the journey across the giant iron bridge, described by Steinbeck in Travels with Charley in Search of America
, as "high arched as a rainbow."
Photo courtesy of Jayson Maker.
To return to my list of the five prettiest lobster fishing villages in Maine, click here.